New Work
February 28th, 2010
I'm still far too busy with new projects to resume the retrospective yet but I still plan to do it when I have a window of opportunity. I'm currently working on getting the new site up and running to show what I'm up to in the present.
In the meantime I'm uploading some of my new works on Flickr regularly, check it out here - SHOK-1 Flickr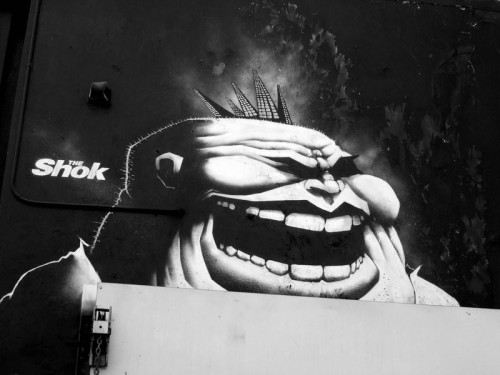 Retrospective update
August 30th, 2009
It's taken me longer than I intended to resume the retrospective and I've been getting complaints so apologies for that! The workload for daily updates was taking up too much time and I've been busy with shows and other projects.
However, I've commissioned a place to take care of the scanning and I will be shifting to weekly rather than daily updates so I'll be able to get things rolling again soon I hope.
In the meantime you might like to search for me on Flickr; some of my older work that I have not so far included has been posted by fans there.
Thanks for your patience. SHOK-1
SHOK-1 First Los Angeles appearance
August 30th, 2009
The show opens on the 5th and I will be painting live at the gallery on the afternoon of the 6th. If you are in the area, please feel free to visit. I'll be in LA from 1st – 15th September painting and generally getting busy.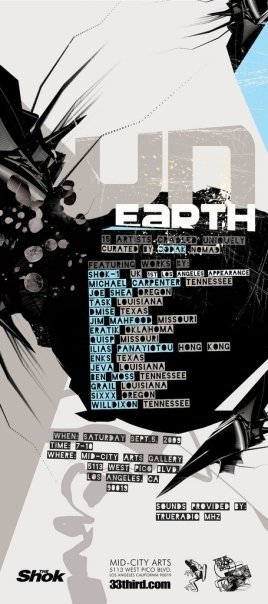 Back
June 22nd, 2009
I'm back from exhibiting at a major  show in Switzerland – Public Provocations at Art Basel.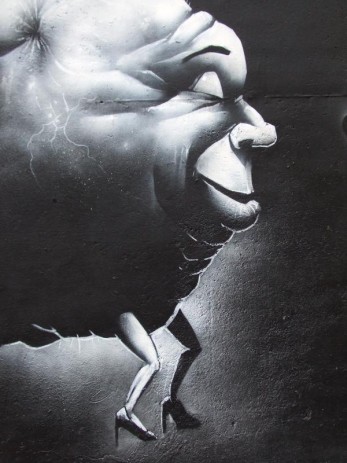 The retrospective will resume shortly but in the meantime, here is a link to my new Flickr account.
There are 200 brand new photos including new pieces and canvases by myself and a comprehensive set of artwork from the show including legends like Seen, Dare, Blek le Rat and others. Enjoy.
SHOK-1
PS Unfortunately the company who holds my domain screwed up the renewal so apologies that the site was down temporarily.
Back in June …
April 13th, 2009
Working on shows coming up at the beginning of June. Retrospective will resume after that!
Cans (1992)
April 12th, 2009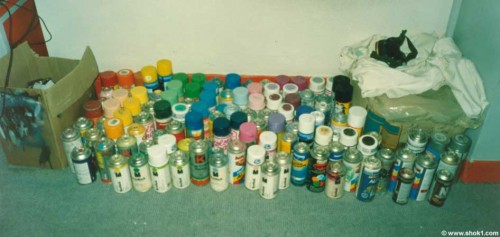 Maybe 20 different brands from a time when it was still a real mission to get hold of a decent range of colours in England. Working around all the reactions from overlapping different paint formulations was a real chess game.
In the mix you can see some original Marabu Buntlacks with the horizontal logo, the choice of 80's Euro kings. Then there are some bland England car paint colours vs vibrant German car paints. I never really figured out why they'd want a mauve or purple motor but cheers for the colours anyway.
Standing black and proud in the front is a French Sparvar picked up from our Parisian friend Simonz – he'd bring us a carrier bag over every time he'd go back to visit his fam.
The foot soldiers of the army are some classic standbys of the British scene – filthy Japlac enamel, Stonechip black and Finnigan's Smoothrite from before they ruined it. Most British 80's / early 90's graffiti was outlined with it – black, white, blue, green, red, yellow and that's your lot. I recall Vulcan from NY saying it was the best outline paint in the world.
Burst Bubbles (2001)
April 11th, 2009

"So sick n' tired of people trying to burst our bubbles!!!",  Alert writes at the end of this bubble-style "Raws Alert" piece in Nottingham. Seems my aspirations were violent lime green and he was mainly dreaming of sausages.
Rare occasion when I timed myself painting – the evil bubble-burster character in the middle took me 12 mins.
Stop talking shit and PAINT! (1994)
April 10th, 2009
In which I learned the pitfalls of a statement piece.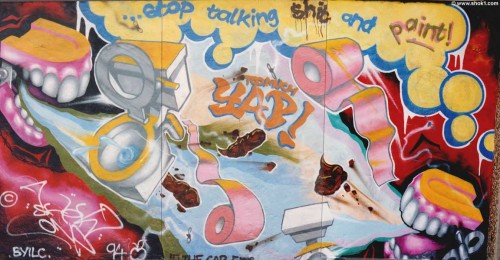 Although I wrote "if the cap fits" at the bottom of the piece, a lot of people evidently had a guilty conscience since they thought that I was directing it at them. Other people decided it must be directed at people they personally had a problem with. It should have been "If the crap fits".
Moral of the story – step back once the fuse is lit!
The painting was in Nottingham – two windup chatterbox characters are talking shit, bombarding each other with turds, toilets and loo rolls.
Comes complete with flies. That's scatalogical, captain.
First SHOK-1 Spraypainting (1985)
April 9th, 2009
Although I started in the summer of 1984, all the streets I had done up until this point were with marker pens. Apart from a ton of ugly tags everywhere, I actually used to go out and do big pieces at night fully filled in with marker pen! Dry old Berol Magnum 800's too with no ink flow at all. It would take forever.
This was the first time I got my hands on spraypaint. My friend got the cans so we ended up doing his design rather than mine after some arguing. It says "Crime", painted in generic car paints from Halfords.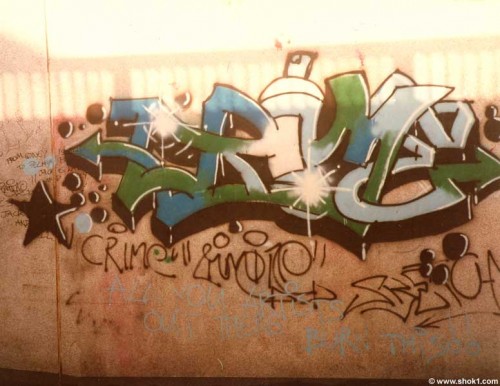 We started around 1am in the morning if I remember correctly, in the underpass of a park where we used to hang out causing trouble and generally having fun. There was some stress towards the end with a do-gooder who had to be warned off but in general it went well for a first ever attempt.
Although it looks like absolute dogshit now of course, I can't even begin to explain the absolute excitement I felt at seeing this the next morning. It looked like it was hanging in mid air in front of the wall like a cartoon that had come to life, a filthy illusion. I didn't own a camera for quite a while but someone took this picture for me.
It was the beginning of a long journey. Here I am at the time of writing – click to view
Revival Pressure SHOK (1995)
April 8th, 2009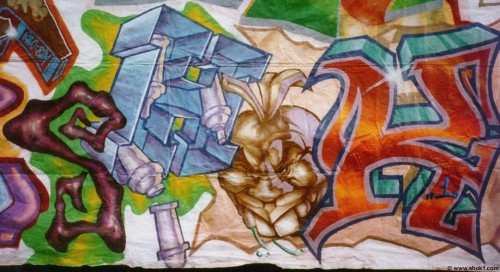 Part of a massive canvas myself and some friends did at an event.
I used to like doing these pieces made from different bits – I often had too many ideas I wanted to try out to base a whole piece on one.
Reads – "SHOK". Jelly style "S" (this will become the organic style a few years later), the "H" is a box of cans tipping out, a gangster apple for the "O" and a straight letter "K" with a crumpled paper background.